Our expertise in all modes of transport enables you to choose the most suitable solution. Before we build we analyse expectations and study the limitations in order to propose the tailored solution that best suits your specific needs. Our industry knowledge and strategic partnerships will ensure a smooth flow of studies, design, works, control, commissioning, operational maintenance, operations and ticketing of your preferred solution.
To ensure world-class operations, we have the backing of our majority shareholder RATP Dev, a transport operator in Paris and its surroundings, which handles 12 million trips a day on one of the densest multi-modal networks in the world.
As the world's fifth-largest transport operator, RATP Group operates and maintains tens of thousands of kilometres of metro, bus, tram, urban and interurban rail systems worldwide. 
Bombela Operating Company won the African Transport Operator of the Year Award at Africarail 2017, an annual event bringing together the major players in Africa's transportation sector.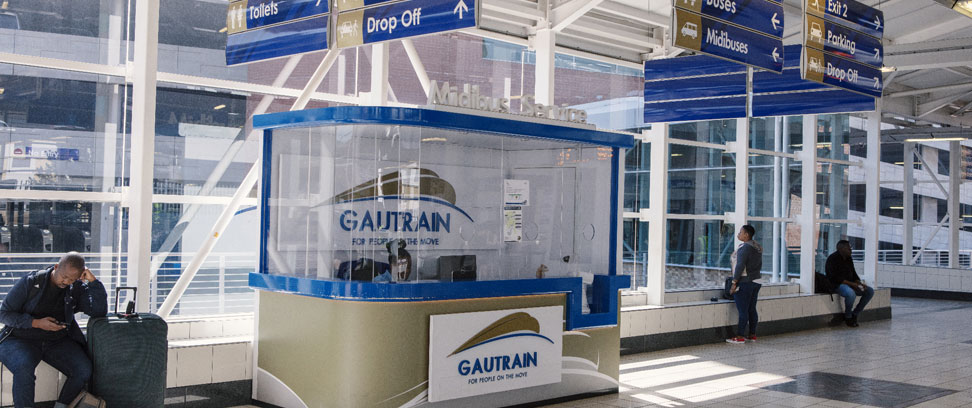 Bombela Operating Company operates the leading, integrated multi-modal transportation system in South Africa, the Gautrain, commuter trains made for people on the move. BOC delivers this via a state-of-the-art Operations Control Centre.
Every day, we innovate for more sustainable and smart cities by designing, operating and maintaining long-distance and short-distance transport networks that serve the well-being of our travellers. We do this with passion and determination.
Rail Solution
BOC operates and maintains a rail network solution that is safe and reliable as one of the fastest-moving trains on the African continent. Gautrain trains have achieved a 90% efficiency rate from its launch in June 2010, ensuring that thousands of passengers reach their destination safely and on time, every time.
BOC is committed to service excellence that truly puts passengers first. Public transportation in South Africa has never been so safe and reliable. Through high standards of day-to-day operational efficiency, Gautrain passengers are assured of a punctual, reliable and accessible railway network and clean, well-managed and safe stations, that remains unmatched in South Africa.
The safety of passengers, the public, and employees are of paramount importance. BOC consistently applies and meets the highest standards of safety throughout our operations to ensure an impeccable safety record with zero accidents or fatalities on the Gautrain rail network. Go further, faster and in greater comfort thanks to our railway solutions.
Buses and Midibuses
As part of the Gautrain network, BOC successfully operates a bus and midibus transport system that seamlessly integrates with the Gautrain railway solution. We manage the daily dispatch of all buses within the transport grid. This convenient and efficient transport system has extended services to ensure that customers who are not frequent rail users of the Gautrain can access Gautrain bus and Gautrain midibus services.
As a top-class operator of bus and midibus services, BOC provides efficient mobility to thousands of commuters dependent on public transportation. BOC's unrivalled safety record underscores our specialist expertise in delivering leading transportation systems and solutions. 
BOC's expertise has enabled the provision of safe and reliable vehicle transportation networks that meet the highest international standards. Through extensive training initiatives in collaboration with local taxi operators, BOC is also proud to raise the standards of safety, reliability and efficiency of public transportation in South Africa.
Operations Control Center
The Operations Control Centre is the heartbeat of the operational excellence that BOC provides. We take pride in this unique platform that improves the performance of our bus and metro services and fights against fraud. The functionalities of the operating centre give BOC an in-depth overview of minute-by-minute operations across the entire rail and bus grid, making it possible for the Gautrain to be a proactive transport system with leading, adaptive technology.
Our operations centre makes use of a graphical interface with modules for planning, disposition, information distribution, timetable construction, control, recording, statistics, rolling stock, slot and traffic management. The operating control centre is the eyes and ears of every corner of our transport grid. It is our solution for the future, based on big data and real-time monitoring of travel.
We never stop innovating. It is this technical excellence that allows us to be the leader in rail and road transportation on the continent. We bring to the cities the excellence of an innovative and sustainable service.